News portal Maritime-executive reports that Evergreen's newest container ship, Ever Ace, has arrived in Taiwan, becoming the largest container ship to dock in the port. This is the first voyage of the vessel. The Ever Ace, ordered in 2019 and delivered by Evergreen on July 29, has a total container capacity of 23,992 TEU, slightly more than the extra-large container ships. However, in April 2021, CMA CGM set a new world record for the largest actual load (21,433 TEU) aboard the CMA CGM Jacques Saade when it left Singapore.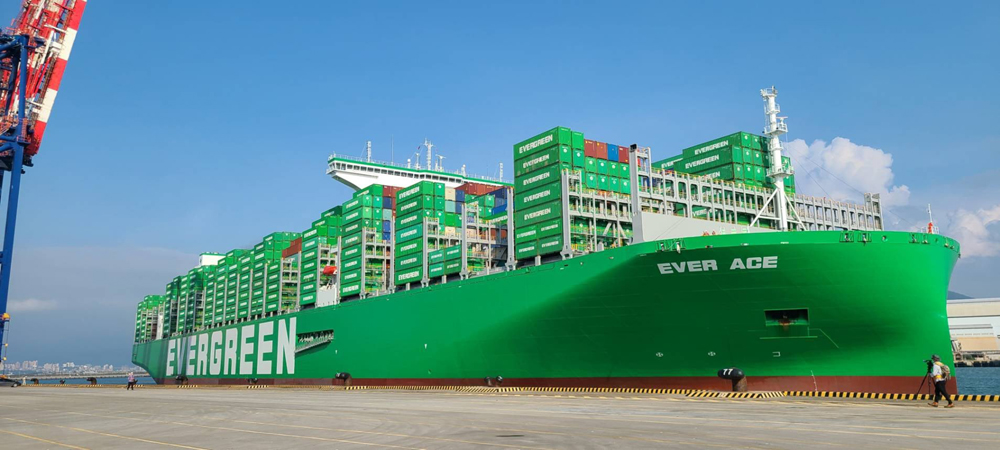 The new Ever Ace is 1,312 feet long and just over 200 feet wide. Samsung Heavy Industries also said the vessel has a top speed of 22.6 knots. Ever Ace departed from Qingdao Port in Shanghai with a cargo of 6,200 TEU at the start of its maiden voyage. On August 8, the new ship arrived at Taipei Port. where Evergreen is headquartered. The vessel will continue to Yantian, China before embarking on its maiden voyage to Europe.
The new container ship marks the start of a new class of 12 ULCC vessels ordered for Evergreen, four of which are expected to be delivered this year. Six are being built by Samsung, and the rest are being built at the Hudong Zhonghua and Jiangnan Shipbuilding plants in China. Note that Evergreen's revenue in the first half of the year doubled to nearly $ 7 billion, and profits exceeded $ 3.2 billion.
Magazine «Shipping» Odessa