Date: February 24th, 2022
Place: Concert Hall «Sady Pobedy 5 *», Odesa
ODESSA GRAIN FORUM — it is an effective platform for meeting leaders of the agro industry, discussing pressing issues, sharing experience, and establishing new contacts. You will receive analytics and forecasts from industry leaders and narrow specialists.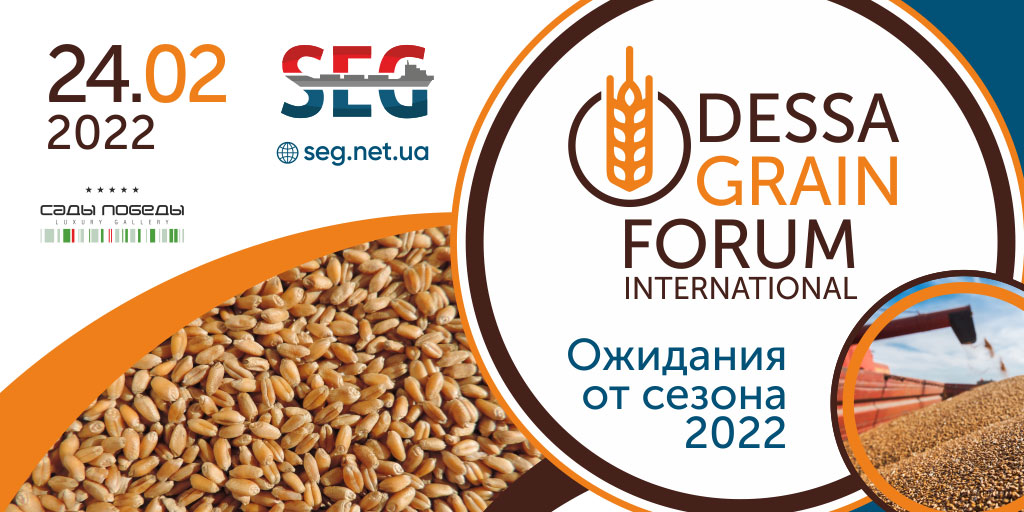 After the discussion panels, everyone will have a Cocktail party — a time for networking, informal communication and new promising acquaintances.
At the forum, the speakers will be: representatives of government agencies, traders, terminals, logisticians, agricultural holdings, charterers, narrow specialists.
Moderator — Mykola Gorbachov, President of UGA
There are 4 blocks of a rich program awaiting you:
 -LAND AND AGRARIAN REFORM OF UKRAINE. DEVELOPMENT. INVESTMENTS. 
State support for agribusiness, investment attraction. Prospects and expectations for Ukrainian farmers and investors.
Competitiveness of Ukrainian ports. Infrastructure development. How it is planned to increase interest in our ports.
— GRAIN MARKET-2022
Interim results of the grain market season 2021-22 and development prospects. Ukraine's position in the main grain markets. What has changed over the past few years. The world grain market — pricing principles, development in conditions of high supply. Forward contracts and bank guarantee. Hedging the manufacturer's risks. Phytosanitary standards. A trader's point of view on grain export from Ukraine. Grain trade in Ukraine. Exporters rating.
— GRAIN TERMINALS
The efficiency of grain terminals. Capacities, throughput, innovations. Experience of the main market players.
Legal issues of development of port terminals for grain transshipment.
— INFRASTRUCTURE AND LOGISTICS
Complex logistics solutions for grain transportation. River transport reform. Multimodal transportation market. Container transportation risks. Transportation by rail, as an alternative to road transport. The willingness of the railway carriage possessors to meet the needs of the goods owners. Chartering pricing and risks.
The program is at the stage of revision and addition.
The composition of the speakers is in the process of being agreed upon.
Up-to-date information on speakers and the program can be found on the event website:
*The conference will comply with all norms for holding public events in the context of Covid-19
Organizing committee:
event website: http://seg.net.ua/
mail: info@seg.net.ua
phone: +38 097 291 77 24; +38 0931638261, +38 048 784 04 24