Indian's first floating liquefied natural gas (LNG) terminal was inaugurated on May 1 by the country's gas company H-Energy, a unit of Hiranandani Group. Eni's floating storage re-gasification unit (FSRU) GDF SUEZ Cape Ann was hired for the job in 2017. The 145,000 cbm FSRU, which was hired for a minimum period of 5 years, arrived at the LNG re-gasification project at Jaigarh port in Maharashtra on the west coast of India, on April 30.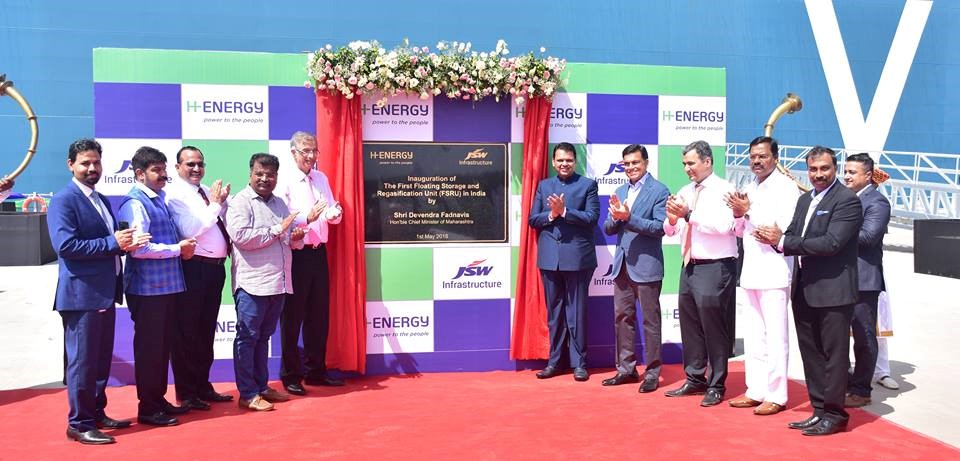 The vessel is equipped with the re-gasification capacity to operate the project at around 4 million tons per annum. H-Energy said the FRSU sets a new era in Indian LNG industry
"Growth has to percolate to the common man and has to contribute to the progress of the nation," Niranjan Hiranandani, Chairman of the Hiranandani Group said at the launching ceremony.
The terminal was officially inaugurated by Chief Minister of Maharashtra, Shri Devendra Fadnavis. In addition to providing the country with gas, a technical modification of the vessel is planned, aimed at enabling bunkering vessels to load LNG. In this way, the vessels in Maharashtra ports will be able to become compliant with the IMO's Sulphur Regulations set to enter into force in 2020. H Energy has an option to extend the charter agreement beyond the initial term.