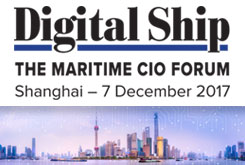 Digital Ship's Maritime CIO Forum Shanghai has been developed to address the issues and trends that technology leaders face in an increasingly changing and continuously developing business environment.
Digital Ship is excited to be heading to Shanghai, for the first time, to deliver our Maritime CIO Forum where the focus will be on Smart Shipping and the impact of innovation and digital advancement in the maritime industry and the future of shipping.
The aim is to provide a forum for shipping industry leaders and executives to discuss initiatives, ideas, outlook, opportunities and indeed challenges that face the shipping sector – as well as a chance to talk about how we can best harness digital transformation in our shipping operations.
Through an opening scene setter, and four key focus sessions and interactive panel discussions, we will ask how the industry is responding to change and investigate what technology and digital transformation can do for us.
Opening Session: China's Marine Economy: Balancing Industrial Innovation with Sustainable Development
Session 2: The Maritime Satcom Summit
Investigating the evolution of maritime mobility and connectivity
Session 3: Harnessing Maritime Cyber Resilience
A look at maritime cyber security, safety and risk
Session 4: Blockchain and its Impact on the Maritime Industry
Addressing the long-term advantages and opportunities, and how Blockchain will streamline trade and transport
Session 5: The iShipping Revolution
Reviewing smart shipping
Speakers and Panellists confirmed to participate include:
Wei Zhuang, Regional Manager of Asia, BIMCO (Digital Ship Programme Advisor)
Wei Fan, Manager of International Maritime Research Department, Shipbuilding Information Center of China (SICC) (Digital Ship Programme Advisor)
Peter Fuhrman, Chairman and Chief Executive Officer, China First Capital
Eric Jan Bakker, Head of Sales Asia Pacific, Marlink
Ralph van der Hoeven, General Manager, Klaveness Shipping (Shanghai) Co. Ltd.
Steve Saxon, Partner, McKinsey & Company
Stephan Vetter, Vice President (Maritime Industries), KfW IPEX-Bank GmbH
Ranjan Varghese, Director — Naval Architect, Steel Ships Ltd
Scott Pilkington, Partner, HFW
Shengwei Qian, VP Sales Asia, Inmarsat Maritime
Brent Bruun, Chief Operating Officer, KVH Industries
Wouter Deknopper, Vice President & General Manager, Maritime Line of Business, Iridium
Matthew Galston, Senior Director, Product Management, Cobham Satcom
Rob O'Dwyer, Editor, Digital Ship
The event will include an interactive workshop, networking opportunities and a post-conference reception
on 7 December.
Date: Thursday, 7 December 2017
Venue: Jumeirah Hotel, Shanghai
Website: https://www.shanghai.thedigitalship.com/
Enquiries: cathy@thedigitalship.com
ABOUT DIGITAL SHIP
For 17 years Digital Ship magazine has provided the digital community of the world's maritime industry with
the latest news and developments, including satellite communications, software, navigation and electronics,
to help keep shipping operating with maximum safety, efficiency and crew comfort.
CONTACT:
Cathy Hodge, Event Director, Digital Ship
+ 44 7956 965 857 |email: cathy@thedigitalship.com | www.thedigitalship.com