The world's largest international maritime exercise concluded this week following more than a month of training events conducted in and around the Hawaiian Islands and Southern California. The biennial exercise, known as Rim of the Pacific, or RIMPAC for short, involved twenty-five nations and included 46 surface ships, five submarines, 17 land forces, and more than 200 aircraft and 25,000 personnel. This year's RIMPAC iteration marked the 26th in the series that began in 1971 and is now held every two years. Hosted by U.S. Pacific Fleet, RIMPAC 2018 was led by U.S. Vice Adm. John D. Alexander, commander of the U.S. 3rd Fleet, who served as the combined task force (CTF) commander. Royal Canadian Navy Rear Adm. Bob Auchterlonie served as deputy commander of the CTF, and Japan Maritime Self-Defense Force Rear Adm. Hideyuki Oban was the vice commander. Fleet Marine Force was led by U.S. Marine Corps Brig. Gen. Mark Hashimoto. Other key leaders of the multinational force included Commodore Pablo Niemann of Armada de Chile, who commanded the maritime component, and Air Commodore Craig Heap of the Royal Australian Air Force, who commanded the air component.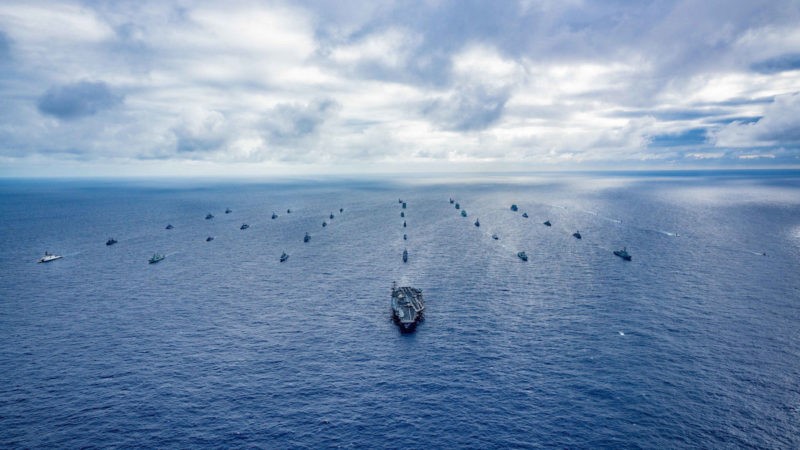 These capabilities ranged from disaster relief and maritime security operations to sea control and complex warfighting:
The relevant
Realistic training program included amphibious operations
Gunnery
Missile
Anti-submarine and air defense exercises
"This robust constellation of allies and partners support sustained and favorable regional balances of power that safeguard security, prosperity, and the free and open international order," the U.S. 3rd Fleet said in statement. "RIMPAC 2018 contributes to the increased lethality, resiliency and agility needed by the joint and combined force to deter and defeat aggression by major powers across all domains and levels of conflict."
Participating nations and forces exercised a wide range of capabilities and demonstrated the inherent flexibility of maritime forces world's largest international maritime exercise .