The port council has unanimously recommended the initiation of the next phase of developing the Danish seaport, a decision also approved by the municipal council of Vordingborg.
As such, the tender business is expected to commence in autumn 2019, with an expected start of the actual construction work in 2020.
In detail, Stage 4 will be an extension of the Storstrøms Bridge construction site (on the southwest side of the Masnedø island towards Falster). Stage 4 is a land reclamation project that will expand the port area by approx. 200k m2, effectively more than doubling it (180k m2). Vordingborg will also gain around 150 m of quay wall.
«The project is to contain the area and subsequently fill it up with soil and recycled products from other construction projects. Today, huge amounts of soil and other industrial residual products are generated from the many construction projects around Denmark. By establishing a recovery project in South Zealand, companies in the municipality and in the area will have easier access in terms of getting rid of soil close to their construction projects,» the Port of Vordingborg wrote in a press release.
Since the costs of establishing Stage 4 are covered through payment for receiving the soil, the port does not have to raise loans. Both Danish and foreign companies have expressed an interest in both building the plant and handling of the soil.
The press release underlined in this context, «Vordingborg Port has an extensive  experience within recovery projects, as the port has been a partner in the EU Interreg project DUAL Port. Stage 4 is part of the original master plan and is therefore a natural extension of these experiences. In the recently completed port expansion, a number of recycled products were also used.»
Jan Michelsen, Director, the Port of Vordingborg, commented, «Not only is the project a financially sound business, but from an environmental perspective, it also makes extremely good sense to expand in this way.» To this Jan-Jaap Cramer, the port's Development Manager, added, «We need to think about circular economy and green change when we talk about building and construction projects. That is the future — also when it comes to ports.»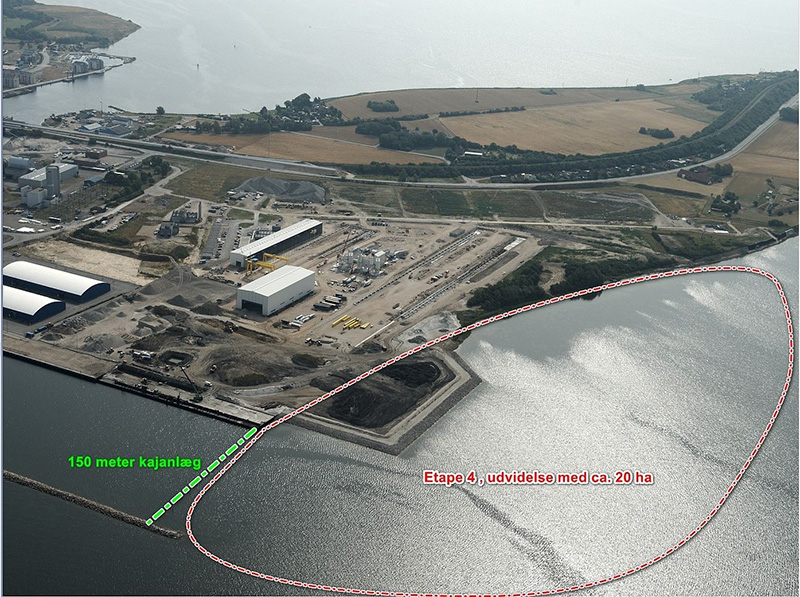 Photo: Port of Vordingborg/  by the Baltictransportjournal.