Thuraya VSAT service debuts at the leading international maritime trade fair
Hamburg, Dubai, 30 August 2018:  Thuraya's upcoming VSAT service and its Marinecomms product portfolio are both on display for the first time at SMM Hamburg, the world's leading trade fair for the maritime industry.  The pioneering telecommunications company and its long-time partner IEC Telecom will be co-exhibiting in Hall B6- B6.234 between 4 and 7 September.
"As the global maritime industry continues to operate in an extremely tough environment, ship owners are looking for new solutions to optimize the efficiency of their operations," said, Shawkat Ahmed, Chief Commercial Officer at Thuraya. 
"Satellite communications is key to addressing these requirements and to offer new choices to the industry. As established providers of marine satellite communications services, we understand the nuances of the maritime market needs. We've delivered value-added products and solutions to fishing, naval, Coast Guard, merchant and leisure vessels, and operators of all kind of shipping lines for over 10 years."
Delegates to the four-day event in Hamburg will have an opportunity to discover the latest Thuraya offerings, hear the latest updates and learn more about its broad range of products and services, including:
The Thuraya VSAT Service, scheduled for launch in Q4, combines key maritime connectivity options to deliver a singular, powerful satellite communications solution. It merges Ku-Band VSAT and L-Band services to deliver one robust offering backed by an extensive network. Catering to the rising demands for higher bandwidth requirements, the service enables crew and officials to be on par with onshore connectivity and stay in touch with ports, ground crew, family and friends.
Another product highlight is Thuraya Orion IP, a maritime-specific broadband terminal, which supports broadband data communications at speeds up to 444kbps. Small, lightweight and easy to install, Thuraya Orion IP is suitable for both business and crew communications.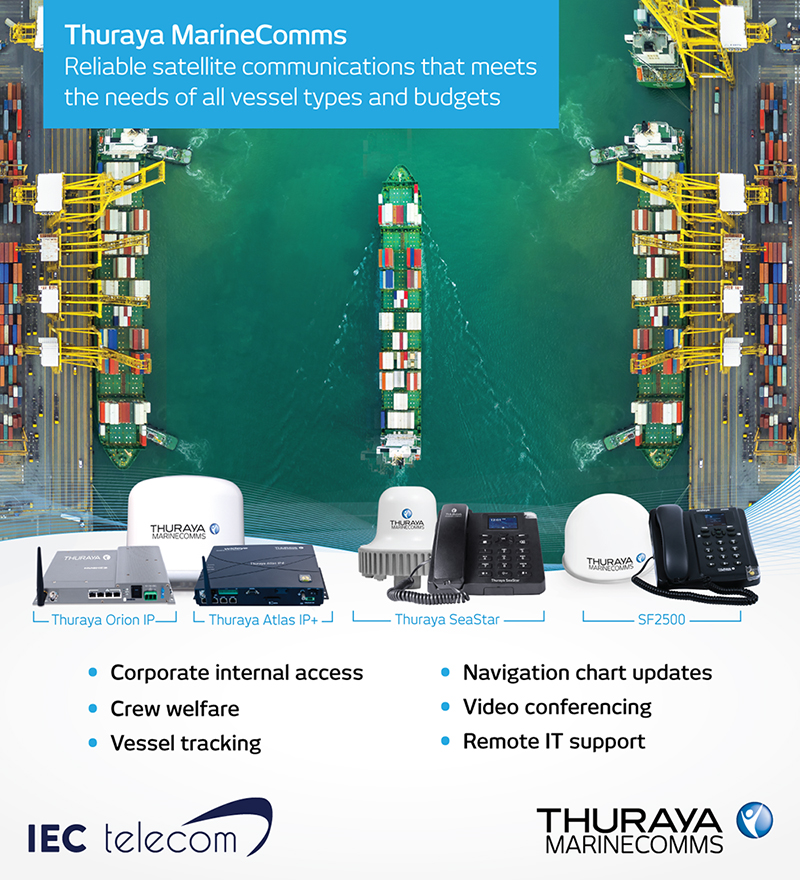 A focus will also be on Thuraya SeaStar, a circuit switched voice terminal that conforms to IEC 60945 requirements. Thuraya SeaStar offers voice, SMS, data and tracking, on an easy and intuitive interface. Users can make satellite voice calls to normal PSTN phones, mobile phones and other satellite phones through the Thuraya satellite network. Thuraya SeaStar can also have a standard analogue phone plugged into it as an extension.
Shawkat, added: "As Thuraya continues its focus on the maritime sector, the upcoming VSAT service will mark an important strategic milestone in Thuraya's plans; advancing its maritime strategy with the introduction of compelling cost optimization options. Thuraya VSAT offers an integrated platform that transforms marine connectivity by increasing offshore bandwidth capabilities and effectively caters to multiple applications including office-at-sea, crew welfare, cargo manifest and fleet operations. Thuraya VSAT has quasi-global coverage. It delivers VSAT Ku-band and L-band services across land and sea. This includes coverage over major regional merchant shipping routes, offshore regions and coastal marine areas."
Nabil Ben Soussia, Managing Director at IEC Telecom Middle East, said: "Thuraya VSAT service is an efficient cost-cutting solution that allows users to rely on one service for all their maritime communication needs.  VSAT saves time, and delivers operational efficiency and improved decision-making. With a fixed-pricing model, its usage eliminates billing complexities and presents an attractive cost-saving option."
IEC Telecom also comes to SMM Hamburg with their own hybrid terminal, the Orion Edge satellite voice and data solution, developed specifically by them to enhance the offshore communication experience. This technology offers high-quality telephony and high-speed broadband services, bundled along with budget control and consumption monitoring tools.
Nabil, commented: "Another successful collaboration with Thuraya. Orion Edge redefines what is possible in maritime communications. Powered by Thuraya Orion IP, and Thuraya SeaStar voice terminal, and combined with a suite of value-added services, Orion Edge helps bring the consumption budget down by 30% all the while improving operational agility and enhancing efficiency."
About IEC Telecom:
IEC Telecom Group is one of the leading global providers of managed network communication solutions. Known for providing high quality satellite-based technology to customers for more than 20 years, IEC Telecom delivers efficient end-to-end voice and data services, when and where, it matters most.
The company offers a comprehensive suite of system integration, system products, and network services enabling a complete end-to-end solution for all their customers. 
Their portfolio includes:
VSAT solutions (land and off-shore)
Satellite products (access points, portable modems, mobile handsets) 
Managed services (support, maintenance and management of satellite-based solutions during its full lifecycle)
With solutions deployed in Europe, Africa, the Middle East and Asia, IEC Telecom's expertise covers maritime, humanitarian, energy, government, enterprise and media solutions.
IEC Telecom has 11 offices across 9 countries: Afghanistan, France (2 offices), Kazakhstan, Norway, Singapore, Sweden, Turkey, UAE (2 offices), UK.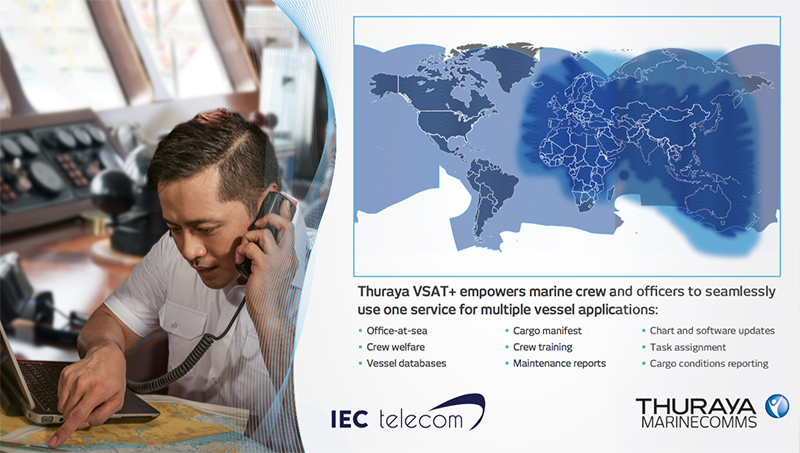 About Thuraya Telecommunications Company:
Thuraya Telecommunications Company is an industry leading MSS operator and a global telecommunication provider offering innovative communications solutions to a variety of sectors including energy, broadcast media, maritime, military and humanitarian NGO. Thuraya's superior network enables clear communications and uninterrupted coverage across two thirds of the globe by satellite and across the whole planet through its unique GSM roaming capabilities. The company's diverse range of technologically superior and highly reliable mobile satellite handsets and broadband devices provide ease of use, value, quality and efficiency. Thuraya remains committed to serving humanity through delivering the essential tools for optimal connectivity, never leaving anyone out of reach. Visit: www.thuraya.com