Norway-based Offshore Heavy Transport is set to enter the offshore renewables market with a state-of-the-art heavy lift transport and installation vessel that combines semi-submersible capability with high-capacity crane operations. The ULSTEIN Alfa Lift design is developed by Dutch design company Ulstein Design & Solutions BV (UDSBV) in close cooperation with OHT. The patent-pending design combines the benefits of semi-submersible transport with a large, 3,000 mt lifting capacity main crane from Liebherr. A unique feature of the dynamically-positioned, 48,000 DWT vessel will be its ability to perform heavy lift crane operations with the main deck submerged.  The vessel is purpose-built to transport and install up to ten 1,500 metric ton wind turbine jacket foundations or eleven 2,000t monopiles, plus transition pieces, supporting the installation of the world's largest wind turbines. The first vessel will be constructed by China Merchant Heavy Industry (CMHI) Offshore and available for construction and installation activities from early 2021.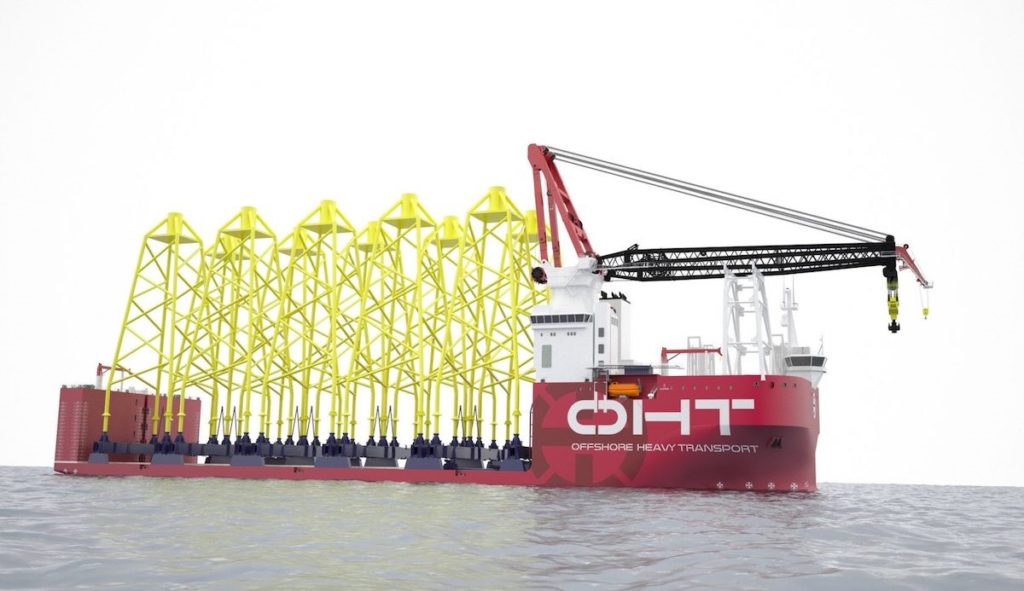 OHT has options for up to 3 additional units
«We started the development of the ULSTEIN Alfa Lift idea back in 2015 with the driver to increase the safety of submerged operations and at the same time increasing the operability window for subsea installations using a crane," says Edwin van Leeuwen, managing director at Ulstein Design & Solutions BV.
It is great to work with such capable people. When we approached Ulstein with our intended strategy Offshore to enter the offshore renewables market and the idea of adding crane capacity to a semi-submersible heavy lift transport vessel, UDSBV presented their Alfa Lift solution on the spot," comments Torgeir E. Ramstad, CEO at OHT. 'That was a direct 'hit', as it allows us to enter the installation market, at the same time expanding on our capabilities in OHT's core market. OHT's fleet currently consists of five traditional semi-submersible heavy lift vessels.