Over 60 ICT firms seek silver lining under Athens' cloudless skies
From fully-automated ports to unmanned smart ships and from far more reliable location-specific weather forecast to cloud gathering and process of ship data, the future of the shipping industry will be on a prolific display at this year's edition of the world's most prestigious shipping exhibition, to be held at Athens Metropolitan Expo from June 4 – 8.
With confirmations from over 60 Information Communication Technology (ICT) international companies, the Posidonia Exhibition continues to be the preferred forum for an industry that hopes to radically transform the future of shipping.
"During the last decades, little has changed in the way ocean going vessels dock, load and transport their cargoes to ports around the world, in comparison to other industries where the advent of digital technologies has brought about a profound transformation," said Theodore Vokos, Executive Director, Posidonia Exhibitions S.A., the organizer of the event which celebrates its 50th anniversary this year.
"But in recent years, we have seen an ever-growing number of ICT companies coming to Posidonia with solutions designed specifically to address the maritime sector's challenges and help it make the transition from tradition to a digitally transformed future."
This year's Posidonia ICT participants come from 18 countries representing every corner of the world, from the USA to the United Arab Emirates, from the United Kingdom to Australia, Gibraltar to Singapore and almost every country in Europe.
Their services and products include solutions from the cutting-edge realms of Artificial Intelligence (AI), Big Data and Automation to the more mundane ICT aspects of Cyber Protection and Computer Applications. While the majority of these solutions are already helping shipping improve in critical areas such as satellite communications, cargo tracking, navigation and crew management and energy efficiency, others are designed with the future in mind aspiring to redefine the way shipping companies conduct their business.
SAP Hellas is one of the exhibitors at Posidonia 2018 targeting shipping companies with its bespoke ICT offering. According to Andreas Xirocostas, Managing Director, SAP Hellas, Cyprus and Malta: "In an age of increasing expectations and complexity, it is required to reevaluate today's business and adopt strategies that enable maritime industry to scale, while at the same time be more reliable, cost-effective, and customer-centric. To meet the demand, companies have to recognise the importance of being a part of the digital world and incorporating digital strategies. SAP can help shipping companies to create a competitive advantage through innovation and digital transformation with digital core, business networks, supply chains and Internet of Things (IoT) technology".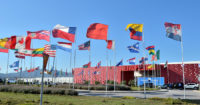 On behalf of HP Hellas, Haris Amourgis, Commercial Sales Manager, commented: "In the shipping industry, IT can be a key contributor in enabling business growth and development: with the need for always-on communication, technology offers ways for users and to stay connected – regardless of their devices, locations or time zones. At the same time, with the great amount of data being transferred continuously and the danger of hacking ever-present, shipping companies need to rethink security to cover even more flex devices and infrastructures. The IT of today can offer the right solution to combine advanced security features and protect against risk, along with real-time, work-anywhere mobility to keep end users satisfied, making the worldwide operations of shipping companies more efficient and increasing performance on all levels. "
And technology is being created, developed and promoted to the shipping industry from all around the world, as the impressive line-up of ICT companies at Posidonia showcases the many different options available today for shipowners, shipmanagers and port operators.
Greek end-to-end shipping software solutions and professional services provider Fortune Technologies SA, is gearing up for yet another Posidonia participation which it sees as a platform for global brand awareness and the launch pad for its international expansion plans. "Posidonia is a great opportunity and the right place to demonstrate our award-winning solutions to a wide range of relevant customers, share our deep expertise and state-of-the-art offering and demonstrate to the international maritime community the reasons why we have gained such momentum and recognition," said George Frydas, Managing Director, Fortune Technologies.
First-time Posidonia exhibitor, ShipServ, a provider of procurement, e-commerce, online trading services to the marine industry, has lined up a week full of product demonstrations for its maiden Athens Metropolitan Expo presence. The UK-headquartered company, which maintains offices in Athens, London, Copenhagen, Hong Kong, Singapore, New Jersey and Manila, will present its newly developed Supplier Performance Report which helps clients analyse trends and identify where improvements can be made. To complement its participation and further highlight the importance of ICT in today's shipping industry, Shipserv will also host a seminar titled: «Practices in digital procurement & category management. Reduce time, save money, optimize suppliers».
Estonia has established itself as a major European IT hub thanks to a raft of software startups and the shipping industry's digitisation drive gives Tallinn-based Smartbics the perfect reason to make its debut at Posidonia, where it expects to create new market opportunities and introduce its capabilities to potential maritime industry clients. The software specialist plans to launch a system for ferry and cruise companies, named BORA, at Posidonia 2018. This is a multifunctional product with different tools for comfortable and successful operation of ferry and cruise businesses of any size.
Technology consultants Socius is preparing for its first standalone participation as an exhibitor at Posidonia this summer. The Croatian tech experts, who provide planned maintenance system databases and related technical support will be presenting Generic PMS databases importable into any Computerised Maintenance Management System, a completely new concept in the European market. Its Database engineers will be conducting individual presentations at the event.
An unexpected, but by now regular exhibitor at Posidonia is Vodafone, the telecommunications & business technology solutions provider, which returns to Posidonia for the second time where it plans to share trends and services that can help maritime companies effectively meet current and future telecommunications needs. Katherine Stathaki, Enterprise Unit Director, said: "Vodafone has always been present and active in serving shipping industry needs by offering credible and flexible solutions. In this regard it is essential for us to stay up to date on trends and issues that affect the industry in order to be able to continue to support shipping companies with meaningful, innovative and relevant integrated solutions."
Posidonia is organised under the auspices of the Ministry of Maritime Affairs & Insular Policy, the Union of Greek Shipowners and the Hellenic Chamber of Shipping and with the support of the Municipality of Piraeus and the Greek Shipping Co-operation Committee.
For additional information, Press inquiries should be directed to:
Artemis Vamvacopoulou, Posidonia Press Officer, EXTROVERT | Business Communications,
Tel: +30 210 6724265, Email: posidoniapress@extrovert.gr.
Maria Photou, Marketing & Events Coordinator, Posidonia Exhibitions SA,
Tel: +30 210 4283608, Email: mphotou@posidonia-events.com.