Shipping giant Maersk Line confirmed that the berthing and discharging operations of the fire-stricken Maersk Honam would result in high extraordinary costs. The company has therefore decided to declare General Average, according to a notice released by Maersk's 2M alliance partner Mediterranean Shipping Company (MSC), under which all parties with a financial interest in the voyage are to proportionally share the losses resulting from the incident. Maersk Line has not yet confirmed when and where the vessel will be berthed and discharged.
The fire on board the ultra large containership was earlier localized and prevented from spreading, the Indian Coast Guard said on March 9. Specialized firefighting vessels remain engaged, with salvage operations led by Smit Salvage and Ardent. The Danish carrier appointed Richards Hogg Lindley (RHL), London as the General Adjuster and they will keep all containers under their control until security arrangements have been made with the Average Adjusters, both for General Average and Salvage. Singapore-flagged Maersk Honam suffered the fire in its cargo hold on March 6. At the time, the ship, which was enroute from Singapore towards Suez, was crewed by 27 sailors.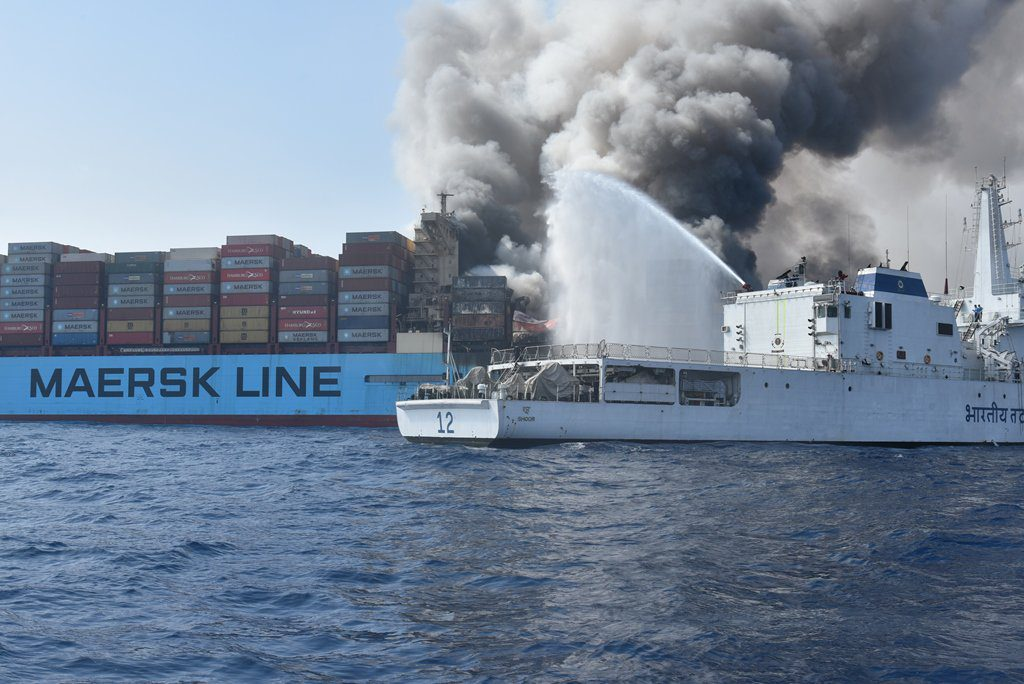 The missing seafarers include two Filipinos, one South African and one Indian. Furthermore, one crew member passed away, while two more mariners, one Thai and one Filipino, are being provided with medical treatment for the injuries sustained connected to the fire. The remaining 19 crew members have disembarked in the cities of Cochin and Trivandrum in Southern India, Maersk Line said earlier today. All crew members have received medical treatment and are offered crisis counseling, and a majority have been transferred to a hotel.
Of the crew members that remain hospitalized some are currently receiving intensive care, the company added.
"We are relieved that a majority of our colleagues have been released from the hospital. We, however, remain deeply concerned about the health condition of our colleagues still in the hospital and are grateful that they are in the capable hands of medical professionals," Palle Laursen, Chief Technical Officer for Maersk, said.
23 crew members were evacuated by the vessel ALS Ceres after the fire broke out. One was reported dead due to injuries sustained in connection with the fire, while the salvors found the remains of three out of the four missing crew members aboard Maersk Honam, the company said on March 12. Maersk Line informed that a full investigation will be conducted to determine the cause of the fire and the impact to the vessel and cargo.