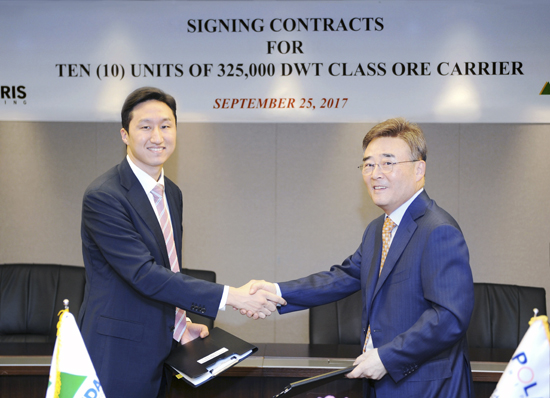 Hyundai Heavy Industries (HHI), the world's largest shipbuilder, announced that it signed a $800 Million worth contract to build ten 325,000 dwt VLOCs (Very Large Ore Carrier) with Polaris Shipping, the domestic dry bulk owner and operator.
The contract is the largest single order in the last five years since HHI received an order of ten large-sized containerships from a Greek shipping company in 2012.
The signing ceremony held at HHI's Seoul office, was attended by Ka Sam-hyun, COO of HHI Group Ship Sales Division; Chung Ki-sun, Executive Vice President of Corporate Planning Office of HHI; and Kim Wan-jung, CEO of Polaris Shipping.
The ships, measuring 340m in length, 62m in width and 29.8m in height, will be designed as eco-friendly ships applying LNG Ready design to meet environmental regulations and reduce fuel consumption, and equipped with a ballast water treatment system and a desulfurization equipment scrubber. The vessels are scheduled to be delivered by 2021.
An HHI official said, "Even under unfavorable market conditions, we have proven our competitiveness with a big order contract in five years. We are beefing up our marketing efforts to meet clients' needs on the back of our eco-friendly technologies.
HHI Group has received a total of 20 orders to build vessels from Polaris Shipping, and delivered seven vessels including four 250,000 ton VLOCs ordered in 2013 so far.
The total number of ships HHI Group won so far this year is 99 ships worth $5.8 billion, which is a 500% plus increase for the comparable period last year when it clinched 20 ships worth $2 billion.