Euronav Acquires Second of Two 3-Million-Barrel Supertankers Left in the World. Belgian tanker company Euronav has purchased the Ultra Large Crude Carrier Seaways Laura Lynn, making it the proud owner of the only two ULCCs in the world capable of holding up 3 million barrels of oil. Euronav Tankers acquired the Seaways Laura Lynn from Oceania Tanker Corporation, a subsidiary of International Seaways, for $32.5 million. Euronav has renamed the ULCC 'Oceania' and re-registered it under the Belgian flag. The Seaways Laura Lynn was built in 2003 and has a deadweight of a whopping 441,561 metric tons. The vessel measures 380 meters in length and 68 meters in beam, with a draft of 24 meters. The only other ULCC currently in the world is Euronav's 442,470 dwt TI Europe. The two remaining ULCCs were among a series of four TI-class supertankers built in 2002-2003 by DSME for Hellespont Group of Greece. Euronav Acquires Second of Two 3-Million-Barrel Supertankers Left in the Worldacquired the vessels in 2004, but later sold one (Overseas Laura Lynn) to Oceania Tanker Corporation in March 2015.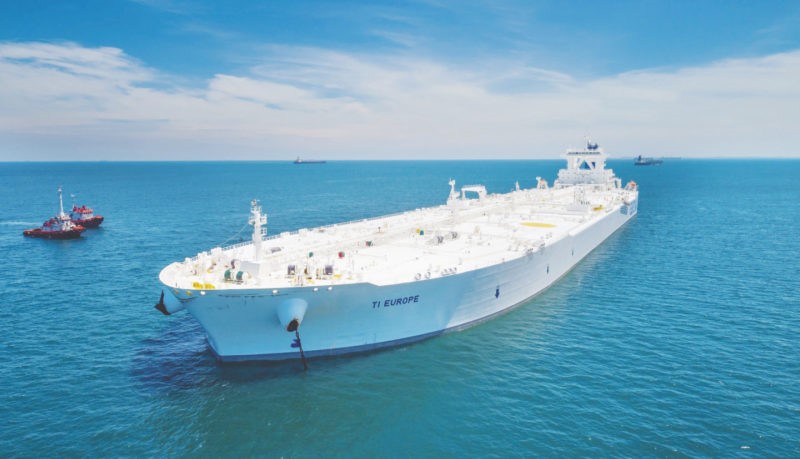 The two other vessels in the series have since been converted to Floating Storage and Offloading (FSO) vessels and remain under the ownership Euronav subsidiaries. Paddy Rodgers, CEO of Euronav, commented:
"Bringing the only other ULCC in the world fleet under our control will provide us with a significant strategic opportunity."
Since 2017, Equinor has chartered TI Europe for use as floating oil storage off the coast of Malaysia. Equinor is the Norwegian energy company formerly known as Statoil. In June, Euronav completed its merger Gener8 Maritime making it the world's largest independent operator of large crude tankers with 2 ULCCs, 43 VLCCs, 27 Suezmax tankers, 2 Panamax tankers, and 2 FSO vessels.