Hong Kong-based cruise line company Dream Cruises has built a huge replica of its World Dream cruise ship out of LEGOs to mark the delivery of the ship. The large-scale replica was built by over 1,000 cruise guests and members of the public under the guidance of Greater China's first LEGO certified professional, Andy Hung. The ship was constructed using more than 2.5 million LEGO blocks.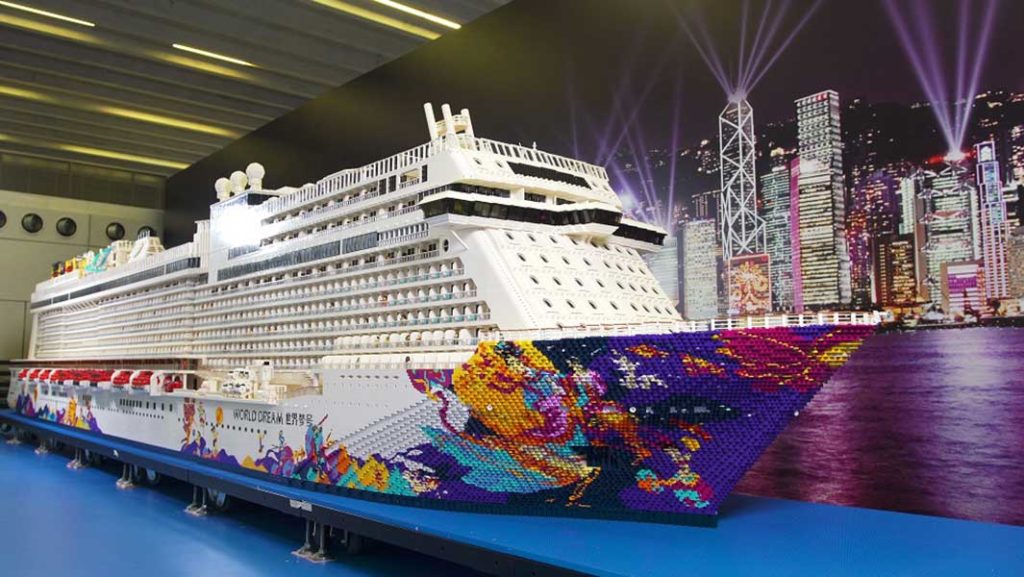 The vessel has the following characteristics:
The ship model weighs over 2,800 kg and
Measures 8.44 m (27.7 ft) in length, 1.33 m (4.36 ft) in width and 1.53 m (5 ft) in height
The model was officially unveiled at Kai Tak Cruise Terminal after two months of the construction process. Following the final measuring, the endeavor was declared successful, ensuring the company official Guinness World Records certificate. The new 18-deck, 151,695-ton cruise ship, was delivered to Dream Cruises, a subsidiary of Genting Hong Kong, in October 2017. The ship can accommodate 3,376 passengers and is 335 meters long, 39.7 meters wide and can reach a speed of more than 23 knots. This cruise ship also carries a small deep-sea submarine that can take guests down to a depth of up to 200 metres.
http://www.guinnessworldrecords.com/news/commercial/2018/4/video-the-worlds-largest-lego-ship-has-been-made-using-more-than-2-5-million-br-519547