November 2018 – At the annual Council Meeting of the Norwegian procurement organisation Incentra in Oslo, LUKOIL Marine Lubricants was announced to be the winner of their Supplier of the Year 2018 Award. The Award was received by Mr. Arild Vartdal, LUKOIL's representative at the Council Meeting, who explained: "We have been working with Incentra for 2 years and are already supplying 20-25% of their volume now, which is continuously increasing. We are striving to provide the very best service to our customers and we are very proud to receive this award."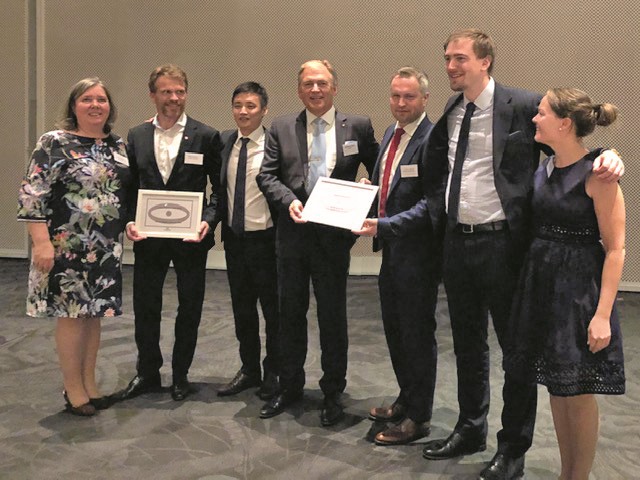 Every year, Incentra evaluates their suppliers' service levels and after coming very close to the top last year, LUKOIL Marine Lubricants was elected Supplier of the Year in 2018.
Laila Hansen, Acting Manging Director of Incentra, comments: "We are very satisfied with the excellent cooperation with LUKOIL Marine Lubricants, and we are impressed by their increased volume in such a short time. The Supplier of the Year award is based on several different criteria, among them is the annual supplier evaluation survey, increased turnover and active participation."
About LUKOIL and LUKOIL Marine Lubricants.
LUKOIL is the leading Russian company in oil exploration, production and refining, as well as marketing of petroleum products. In 2007, its subsidiary LUKOIL Lubricants Company, which is the largest manufacturer of oils and greases in Russia, decided to bring this expertise in lubricants technology to the marine industry. LUKOIL Marine Lubricants was founded as a global sales and marketing business focusing on the production and sales of marine lubricants worldwide. Since then the company already positioned itself as technology leader with the introduction of the first 100 BN cylinder oil as the answer to severe corrosive wear issues of modern engines and the development of iCOlube®, an on-board unit for intelligent cylinder oil lubrication.
About Incentra.
Incentra is the Norwegian marine procurement organisation founded in 1967. Today, it unites 35 member companies – ship holders and rig owners operating about 700 marine vessels all over the globe. Incentra manages long term framework agreements with quality suppliers for spare parts, services and consumables, including marine lubes, used for its members' vessels. Cooperation with Incentra involves pre-qualification and close follow up of agreements throughout the contract period and HSEQ audits. Suppliers must fully comply with Incentra's standards for health, safety, environment and quality management, as well as code of ethics.