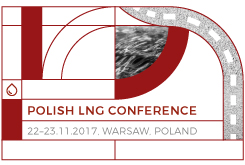 The first edition of the Polish LNG Conference concluded last week, on 23/11/2017 in Warsaw, Poland. The event has been very well received, gathering over 120 participants from all around the LNG industry. LNG supply and demand, market state and cross-border cooperation have been among the topics discussed.
A LNG focused event featuring such variety among both speakers and audience has never been attempted before on the Polish conference scene. The meeting was attended by a broad range of industry professionals, including government officials, policymakers, technology providers, logistic companies, port authorities and LNG suppliers.
The first day featured a strong showing in presentations tackling various technical aspects of LNG trade. Infrastructure development stood in the center point of discussions. From a general overview and impact of LNG infrastructure's development on the country's energy safety package, explored by representatives of Gaz-System, Emerson and Barter to a more specific topics, such as LNG application in the Port of Gdynia or regulations surrounding FSRU implementation in the Baltic, participants were certainly not starved for interesting topics.
Money and legal questions were covered by representatives from Shell and the EBRD, exploring key challenges of LNG infrastructure financing, legal aspects of LNG trading in Poland as well as legal barriers and investment risks facing implementation of LNG as fuel in road transport.
The day ended with the Polish LNG Platform, IVECO, Volvo and Remontowa LNG Systems sitting down together and discussing LNG's role as a synergy catalyst for different modes of transport. The panelists agreed that the need for infrastructure is high. The lack of a legal framework covering safety aspects, especially in the maritime industry, has also been cited. The panelists remained positive, wishing for a connected distribution network encompassing all industry branches to become a reality one day.
Day two kicked off with a broader look on the current state of the LNG industry in Europe, with speeches by members of the European Commission and DNV GL. LNG's contribution to the European energy safety package and the main drivers behind LNG infrastructure development were covered extensively.
From there on it was all about supply, distribution and brand new technologies and solutions. The speakers tackled a plethora of very specific topics, such as minimizing the financial exposures in the energy determination of LNG or LNG distribution chain along the Polish coastline and main rivers to broader ones – a LNG distribution infrastructure overview in Lithuania and Norwegian small scale solutions.
After a brief but very substantial discussion panel, featuring members of various national LNG platforms and projects, discussing the need for cross-border cooperation in order to create and support a European LNG distribution network, the event moved into its final stage.
The last session included frontrunners in the implementation of LNG as fuel in road transportation – namely IVECO and Volvo, presenting their take on solutions currently available for this sector. Their presentations stood in direct connection to the rest of the cast, with NGVA offering an overview of European developments in this matter and Chart Ferox taking a leap into the future with their new generation of LNG/CLNG vehicle fueling stations.
A sizeable contingent of participants decided to end the event on a high-note and braced the cold in order to take part in the LNG practical safety workshop prepared by Barter. The workshop took place in Łomianki and demonstrated various extinguishing methods in case of an initial LNG release.
The conference was sponsored by IVECO, Emerson, Barter, Chart Ferox and Wärtsilä. The event enjoyed honorary partnerships with NGVA, SGMF and the Baltic Ports Organization.
The Polish LNG Conference will return to Warsaw in autumn 2018.
More information available on the conference website.
Contact us:
Andrzej Urbaś
Marketing Specialist
Actia Forum Sp. z o.o.
+48 502 557 535