On March 2, the Panama Canal announced the transit of its 3,000th Neopanamax vessel, exceeding initial traffic expectations by this date. The Panama-flagged containership MSC Caterina completed the milestone transit traveling northbound from the Pacific to the Atlantic Ocean.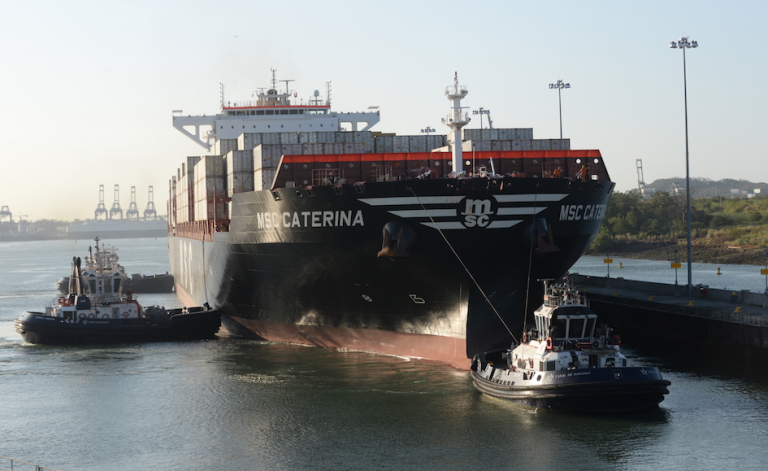 Built in China in 2015, the vessel measures:
300 meters in length;
48 meters in beam;
A total TEU allowance (TTA) of 9,000 containers.
It was one of nine Neopanamax vessels the Panama Canal welcomed that day.
"Today's milestone, achieved in less than two years of operation, serves as a proud reminder of the confidence that our customers and the broader maritime industry have placed in our route," Jorge Luis Quijano, Canal Administrator, commented.
As explained by the Panama Canal Authority (ACP), the Neopanamax locks have had since its inauguration on June 26, 2016, a positive effect on economies of global scales by providing the shipping industry with greater capacity to transport cargo between production and consumer centers. Of the 3,000 vessels that have transited to date, roughly 53 percent have been from the container segment. Liquefied petroleum gas (LPG) vessels constitute another 28 percent, and liquified natural gas (LNG) carriers, a relatively new segment to the Panama Canal, have been responsible for 10 percent of traffic. Dry and liquid bulk carriers, car carriers and cruise ships make up the remaining transits.
Other notable transits so far include the MSC Anzu, which made the 1000th transit on March 19, 2017, and the COSCO Yantian which later registered the 2,000th transit on September 26, 2017.
Image & Video Courtesy: Panama Canal.