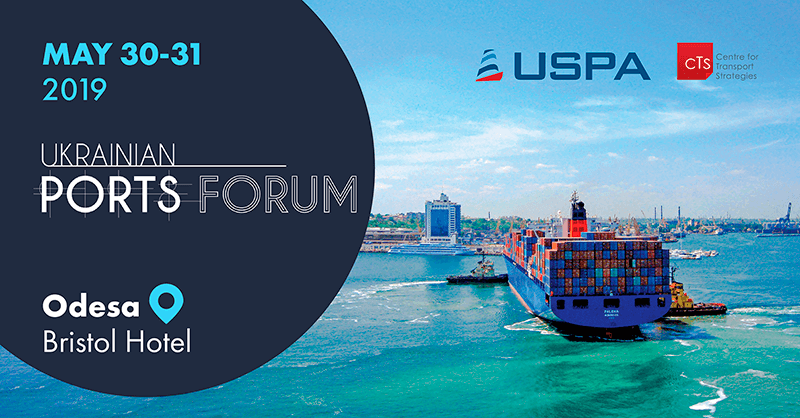 On May 30-31, the main event of the port industry — Ukrainian Ports Forum 2019 will take place in Odesa.
The international forum, first organized and conducted by the Ukraine Sea Ports Authority and the Center for Transport Strategies in 2018, becomes annual.
Ukrainian Ports Forum is a live discussion of all topical port and near-industry issues with market participants, government officials, the international community, Ukrainian and foreign investors and financiers, experts and market analysts.
The main topic of the Ukrainian Ports Forum 2019 will be joint projects of Ukraine with the EU on the development of TEN-T corridors, cumulative portfolio of investment projects in the port industry is estimated at 900 million euros. In accordance with the "Strategy for the Development of Sea Ports of Ukraine till 2038", investments in the industry can reach up to 35 billion UAH.
The central panel of the forum – a dialogue with representatives of the European Commission, IFIs, government and business about opportunities of Ukrainian seaports in a single logistics system of Europe and options for attracting funding and co-financing formats.
We will discuss with Ukrainian and European experts the following issues:
Possibilities of the implementation of PPP projects in the port industry
The main trends in the handling of grain, container, general, bulk cargo in Ukraine and in the world.
Technical aspects of investment projects implementation
We are also planning to hold several specialized events:
EBA conference on port industry lobbying
Traditional HR conference for port industry specialists
Workshop on digitalization of ports: modern technologies in the processing and handling of cargo, collection and analysis of information, provision of services
Round table on maritime security in ports
The business program of the forum provides B2B meetings with leading Ukrainian and international companies and government representatives.
See you at Ukrainian Ports Forum on May 30-31, 2019 in Odesa!