A pair of crane operators at the Port of Long Beach on the U.S. West Coast have set a new productivity record for moving the most cargo using a single crane during one eight-hour shift. The record was set on May 15 when two crane operators working the containership Gudrun Maersk at Total Terminals International's Pier T terminal moved a total of 564 containers using a single crane over just an eight-hour period.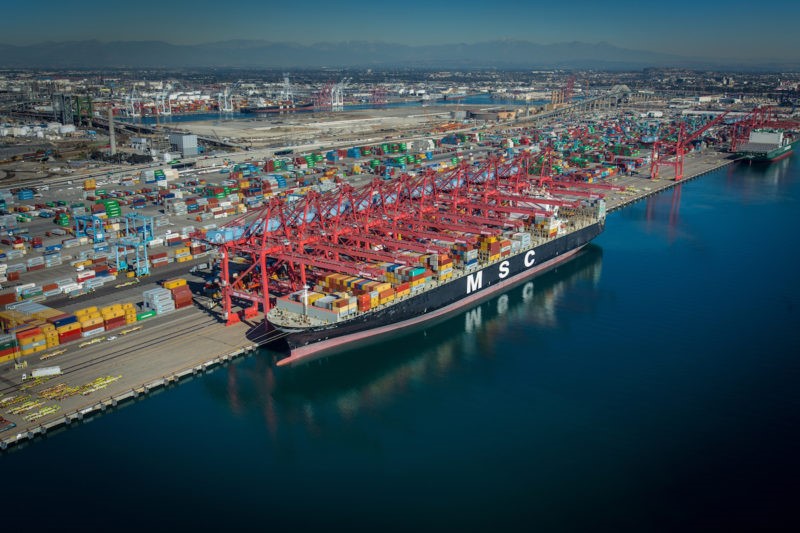 This represents an average of:
70 container moves per hour
Which is nearly triple the West Coast average of 25 container moves per hour
The new record Port of Long Beach breaks the previous American record of 534 container moves set in 2014, also at the Port of Long Beach.
«The credit for the single-shift record goes to crane operators Branko Sindicich and John Gabriellini of Local 13, as well as the Local 94 walking bosses and the Local 63 marine clerks coordinating the moves».
Over the four-day call, more than 9,300 total containers were discharged and loaded on the 11,000 TEU capacity Gudrun Maersk. Based on volume, TTI operates the busiest terminal in the San Pedro Bay port complex, home to the nation's No. 1 and No. 2 busiest container Port of Long Beach . In 2017, the Long Beach and Los Angeles ports moved more than 16.8 million TEUS combined, which would rank the combined complex, as the world's ninth busiest. Until late 2016, Total Terminals International (TTI), and thus pier T, was majority owned by now-defunct Hanjin shipping. After Hanjin's collapse, however, TTI was acquired by a unit of Mediterranean Shipping Company.