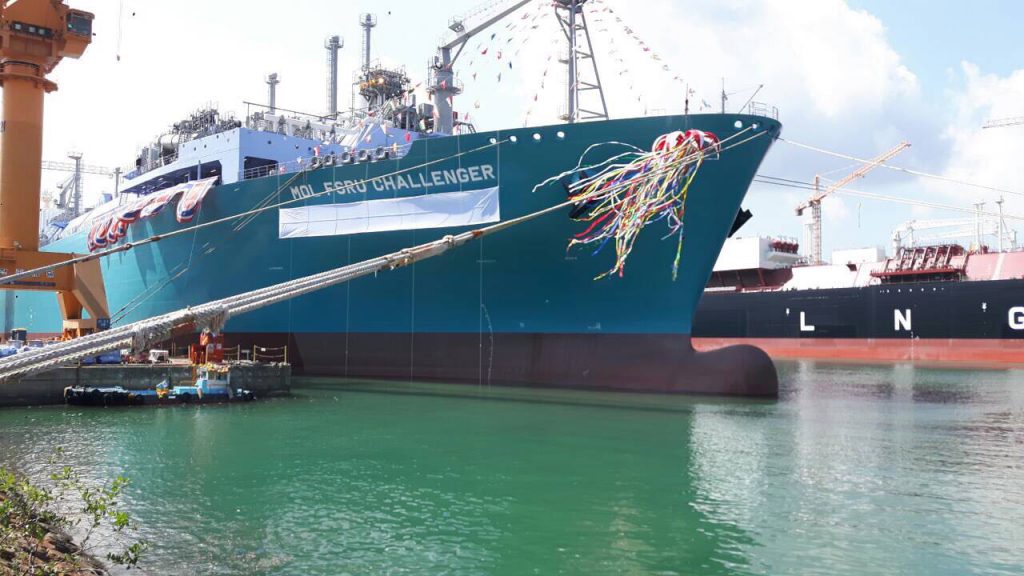 Mitsui O.S.K. Lines, Ltd. (MOL; President & CEO: Junichiro Ikeda) today announced that a naming ceremony for the MOL FSRU Challenger was held at the Okpo shipyard of Daewoo Shipbuilding & Marine Engineering Co., Ltd.in Korea on September 28.This is the first FSRU for MOL to independently build, own and operate.
Many Guests were invited to witness the naming of our FSRU as the MOL FSRU Challenger. The MOL FSRU Challenger will provide storage and regasification services to a project in Turkey after delivery during October. Operation is slated to commence within 2017.
The MOL FSRU Challenger has a LNG storage capacity of 263,000m3 and has LNG re-shipment and gas transfer capabilities. Its specifications allow for the re-export of LNG and supply of LNG to neighboring regions where the vessel is located. MOL is moving boldly into the LNG secondary transport and LNG fuel supply businesses in Asia and Central and South America regions where it anticipates rising demand for LNG.
FSRUs are drawing attention as a solution for flexibility and mobility in the LNG supply chain. MOL will promote the FSRU business, which meets customer needs for diversified LNG procurement, as one of world's largest LNG carrier operators, the only Japanese FSRU owner and operator, and the only Japanese shipping company that owns and operate FSRU.
In addition to ownership and operation of the FSRU, MOL announced its decision to participate in an FSRU project in India, reflecting its ongoing strategy to «pursue vertically integrated businesses that are not limited to transportation in the LNG business,» as set forth in its new «Rolling Plan 2017» management plan. MOL is always ready to move assertively into progressive and creative business fields and contribute to the growth of the LNG business.