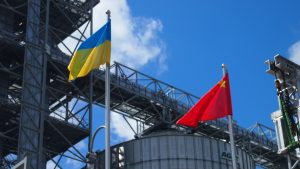 CHI Jingatao, vice-president of «COFCO Corporation» noted this possibility while opening new grain transfer complex in Nikolaev sea port, which is capable to handle more than 2 mln tonnes of cargo a year.
Chinese investment into this project was $75 mln. «Chinese» investment exactly, because some years ago it was beginning like a project of global foodstuffs provider «Noble Agri». In 2015 «COFCO» (Chinese National «Cereals, Oils and Foodstuffs Corporation») purchased «Noble Agri». Thus, it was «COFCO» that opened the object in Nikolayev as an investor.
The building began in August 2014 and continued through twenty months. «About 500 people used to work at that construction every day – builders, riggers, power engineers from all Ukrainian regions. 70 km of piles were driven, 125 km of power cable lines were laid», Vasyl Kapatsyna, Chairman of Supervisory Board of «UkrBud», Honorary President of Nikolaev State Sea Port noted.
«COFCO» Ukrainian unit's specialists rather proudly tell, that grain handling capacity is more than 2 mln tonnes a year (designed capacity – 2,5 mln t), оne-time storage capacity is 136 ths tonnes. The terminal is able to handle 120 vehicles and 120 railway carriages per day, total acceptance capacity reaches 10 ths tonnes of grain per day. Cargo loading is done with a help of German loading machine «Neuero» (up to 20 ths tonnes a day), production processes are provided with modern equipment of a number of Canadian and Western European brands.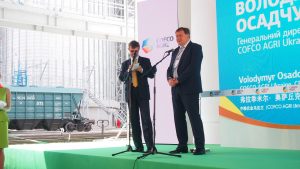 «In this project Chinese investments, Western equipment and Ukrainian hands, which have built the project are combined», — «COFCO Agri Ukraine» CEO Volodymyr Osadchuk said, stressing the creation of 150 new jobs.
«COFCO» was created in 1949 – the year of birth of Chinese Republic. Today this is a large producer of cereals, oilseeds, and also food staffs in China. The company works in Europe, Asia, South America and other continents, in the whole – in more than 60 countries.
«Through this terminal Ukrainian grain will go to Europe, the Middle East, North Africa, China and Southeast Asia. Our farmers compete with the colleagues from Europe and America. Could we imagine that 15-20 years ago?» – rhetorically asks the ceremony leader Pavel Shilko, well-known in Ukraine as a showman DJ Pasha.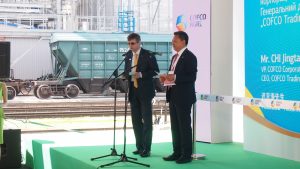 «COFCO Corporation» VP CHI Jingtao, speaking at the ceremony, thanked Ukrainian authority representatives for assistance, and «COFCO Ukraine» team – for the big project realization. He noted that Ukraine is «a kind of crossroads of trade routes between Europe and Asia, and also a country, which is known as European breadbasket».
«At the beginning of 2016 the total investment of Chinese enterprises into Ukrainian economy was more than $70 million. It gave Ukraine not only jobs and income to the budget, but also new opportunities for international cooperation. Only in 2015 Ukrainian grain export volume to China increased by 265.2%, and oil — by 41%», — said CHI Jingtao.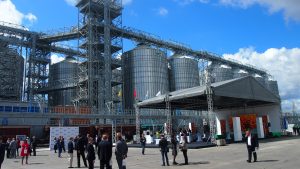 According to «COFCO» representatives, grain storage capacity in the world have already exceeded 30 million tonnes, production and processing volume of agricultural products reached 90 mln tonnes. Handling capacity in the port terminals of the corporation, located in different countries in the world, exceeded 53 million tonnes per year, and with the Nikolaev terminal will exceed 55 million tons.
The place of the object wasn't chosen at random as well. Vice-President of «COFCO» stressed that Nikolaev is not only famous for its maritime traditions, but also is an important port for Ukraine and Europe.
«It's no exaggeration to say that it will soon become one of the key points of agricultural products transshipment in Europe — and will contribute to the development of Ukrainian-Chinese trade. Moreover, it is possible that in the near future it will become one of the key elements in «One Belt, One Way» program realization», — said the investor company's top manager.
«Ukraine has huge natural resources, and China is a capacious consumer market. I hope that we will work with this in mind — and this will bring us obvious successes», — assured CHI Jingtao.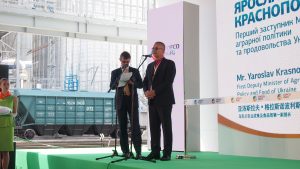 According to First Deputy Minister of Agrarian Policy and Food of Ukraine Yaroslav Krasnopolsky, Ukrainian-Chinese cooperation in the agricultural sector has considerable potential. «Today, Ukraine is №1 in the world in sunflower oil processing and export, №3 – in barley exports, №4 — corn, №6 — wheat. And, we are opening up new markets in China, in particular, animal, dairy and other products», — said the deputy minister. He also thanked the Chinese side for the fact that investments have been made in such a difficult time for our country, where fighting is taking place — and many investors are afraid to work on the Ukrainian market.