ACI is happy to introduce two companies/shipowners joining us speakers during 20th Ballast Water Management Conference, taking place on 18th & 19th of April 2018 in Vallejo, California.
Mr Jeremy Daoust from FedNav will be presenting during Conference Session Three – Case Studies and Lessons Learned From System in Use.
Ms Lisa M. Swanson from Matson Navigation Company will be joining us during Panel Discussion – Choosing a Treatment System: What the Customer Want and What They Should Look Out For.
Early Confirmed Speakers:
Lisa M. Swanson, Director, Environmental Affairs, Matson Navigation Company
Christopher Brown, Scientific Program Manager, Golden Bear Research Center
Carleen Lyden Walker, Co-Founder/Executive Director, NAMEPA, IMO Ambassador
Thomas Rayburn, Director of Environmental and Regulatory Affairs, Lake Carriers Association
Nicole Dobroski, Assistant Chief of the Marine Environmental Protection Division, California State Lands Commission
Ginger Carter, Americas Environmental & Sustainability Director, Lloyd's Register Marine and Offshore
Jonathan Thomson, Senior Environmental Scientist, California State Lands Commission
Joseph J. Angelo, Deputy Managing Director, INTERTANKO
Allegra Cangelosi, Senior Scientist Policy Analyst, Lake Superior Research Institute
Nick Welschmeyer, Faculty Member, Moss Landing Marine Laboratories
Jad Mouawad, Owner, Mouawad Consulting
Eleanor Kirtley, West Coast Program Manager, Green Marine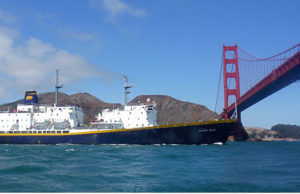 Discounted rate expires soon! Only until 31st January, you can save 280 GBP on the registration fee.
For more information or early bird registration, please contact Rafael Krupa on +48 61 646 7040 or rafael@acieu.net.